Alpha and Omega Semiconductor Limited (AOS) announced the release of AOC3860, a common-drain 12 V dual n-channel MOSFET with the lowest on-resistance in the product family of 2.15 mOhm typical at 4.5 V gate drive. This new device provides further improved source-to-source resistance, which is a critical factor for smart phone makers to achieve faster battery charge with a higher charging current.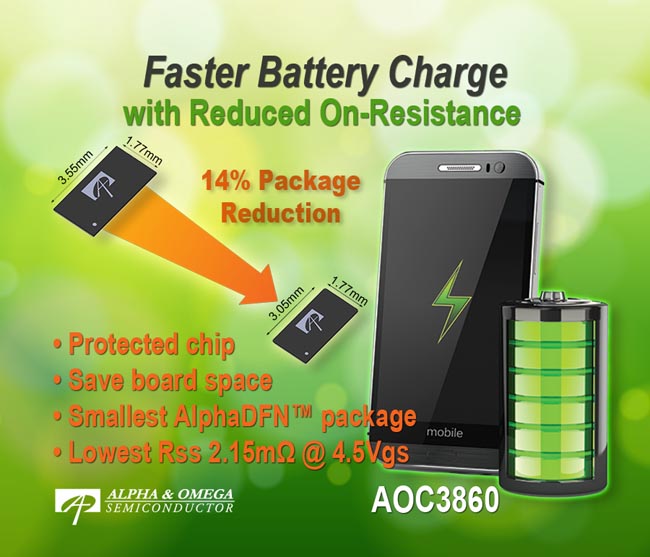 The demand for faster charge comes from both the higher capacity of the battery pack and heavy use of the smart phone with data ranging from email and web browsing to video streaming. With the heavy duty use and shorter time for standby, charging has become a great feature for the newest smart phones. The market is seeing charging power increase from the traditional 5 W to larger wattages of 15 W or 25 W, by raising either output voltage or output current. For battery packs, this always translates to a higher charging current. A MOSFET is a critical part of the battery charging circuit, which needs to provide reliable protection with minimum power loss and temperature rise. The AOC3860 is the latest product with the best Rss and the smallest mounting size in the AlphaDFN™ family, which is a market-proven product family in the battery protection module market. The typical Rss is 2.15 mOhm with 4.5 V gate voltage, and 2.25 mOhm with 3.8 V gate voltage. The chip size is further reduced to a 3.05 × 1.77 mm.

Device Specification Table
Part Number
VSS
(V)
VGS
(V)
RSS(ON) MAX
(mOhms)
RSS(ON) Typ
(mOhms)
4.5 VGS
3.8 VGS
4.5VGS
2.5VGS
AOC3860
12
8
2.7
2.85
2.15
2.25
Pricing and Availability
The AOC3860 is immediately available in production quantities with a lead-time of 12-14 weeks. The unit price for 1,000 pieces is $0.60.