Next-generation current sense amplifier features enhanced accuracy for high-end consumer, enterprise computing, communications, and industrial equipment
Semtech Corporation announced the availability of a new, high-performance current sense amplifier that features low power consumption, high accuracy across input voltages and simplified implementation for design engineers. The TS94033 extends Semtech's portfolio of current sense amplifiers with high-performance functionality for a wide range of analog applications. The current sense amplifier's voltage is flexible – supporting four to 42 volts – optimizing the device for use in a wide range of applications, such as battery chargers, notebook computers, telecommunications equipment, and wireless chargers. It is currently used on Semtech's wireless charging reference designs.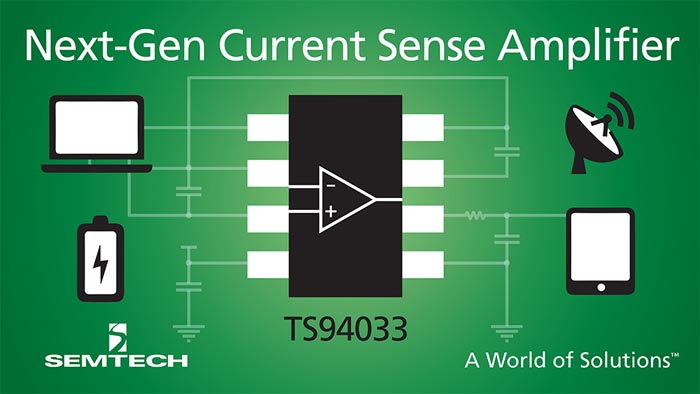 "Our new current sense amplifier reinforces Semtech's portfolio of high-performance, low-power products that enable end-user applications of varying sizes and power requirements," said Francois Ricodeau, Product Line Manager for Semtech's Power and High Reliability Products Group. "This system allows design engineers more design flexibility and simplified implementation due to its enhanced configuration."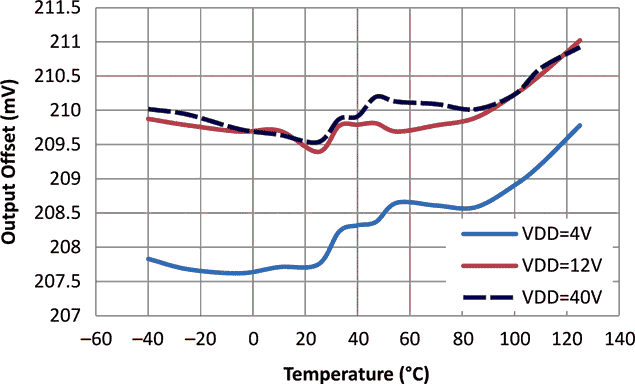 Offset Voltage vs Temperature.
The current sense amplifier is available in an eight-pin, SOT-23 package, and it is lead-free, halogen-free and RoHS/WEEE compliant.
Key Features of the High-Performance Current Sense Amplifier (Part Number: TS94033)
Operating quiescent current is below 28 µA and standby current is 1.1 µA for reduced system power consumption overall.
Output-Referred Offset Voltage is as low as 205 mV allowing for a smaller sense resistor, reduced energy consumption and high accuracy across input voltages.
Chopper-stabilized configuration enables enhanced measurement accuracy and a simplified target application circuit.
Flexible supply voltage, from 4 V to 42 V, supports a wide range of applications.
Pricing and Availability
The TS94033 product (order code: TS94033SKTRC) is available immediately in production quantities and is priced at $0.29 USD each in 1,000-piece lots. Semtech offers comprehensive design assistance, including field- and factory-based support. Datasheets, volume pricing, and delivery quotes, as well as evaluation kits and samples, are available at www.semtech.com/info.