Semtech's RClamp0552T Provides ESD Protection for Dual High Speed Data Lines in Space Constrained Applications
Semtech Corporation announced the RClamp® 0552T, a high performance, low capacitance transient voltage suppression (TVS) array device. The RClamp0552T is offered as a three-pin device and protects high speed differential pairs common in interfaces such as USB 3.0, MHL and HDMI 1.4.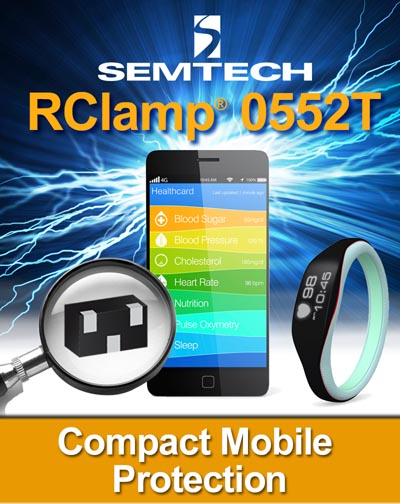 Built on Semtech's highly differentiated process technology that achieves the industry's lowest clamping voltages, the RClamp0552T delivers optimal transient protection and is housed in a small 1.0 × 0.6 mm package with a nominal height of only 0.4 mm. In addition, the leads are spaced at a pitch of 0.34 mm, and the flow-through design of the package simplifies PCB layout by allowing the traces to run straight through the device. The combination of small size, low capacitance and high level ESD protection makes the RClamp0552T an ideal solution for protecting high speed differential lines in portable applications such as mobile phones, fitness bands and wearable devices.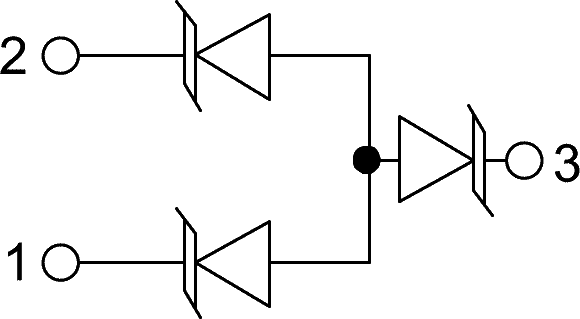 The RClamp0552T delivers high performance with a small footprint. With increasing complexity of smartphones, PCB space and device thickness are key considerations when selecting components. Engineers value the small form factor of the RClamp0552T when protecting sensitive components in their designs.
Key Features of the RClamp0552T
Transient protection for high speed data lines to: IEC 61000-4-2 (ESD) ±17 kV (air), ±17 kV (contact)
5 V working voltage protection
Protects two high speed data lines
Low capacitance of 0.21 pF (typ.)
Low dynamic resistance of 0.90 Ohms (typ.)
Small 1.0 × 0.6 mm package with flow-through staggered pins
Nominal thickness of only 0.4 mm
Pb Free, Halogen Free and RoHS/WEEE Compliant
Pricing and Availability
The RClamp0552T product (order code: RClamp0552T.TNT) is available immediately in production quantities and is priced at $0.25 each in 10,000 piece lots. Semtech offers comprehensive design assistance, including field- and factory-based support.