Diodes Incorporated introduced the AP3984 high-performance power switcher. With its unique integrated high-voltage (HV) start-up circuit, this device provides a cutting-edge solution for line-powered chargers and adaptors in the consumer and industrial markets. Delivering increased conversion efficiency with better voltage and current accuracy, the AP3984 also features ultra-low power consumption and improved protection functions.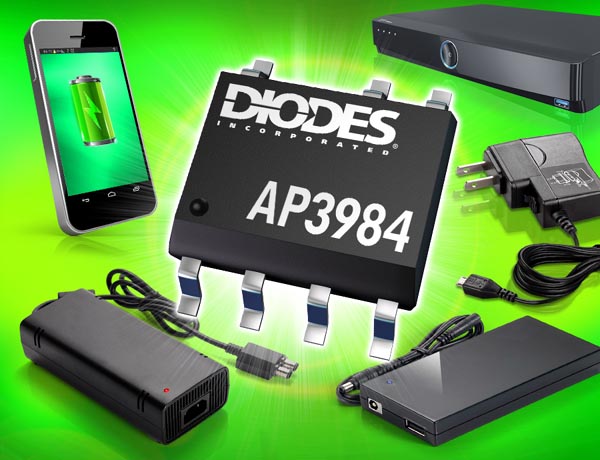 Designed as a primary-side controller, the AP3984 realizes excellent transient characteristics when combined with secondary-side ICs such as the AP4341/2, supplying outputs above 4.3 V. This is achieved with current and voltage tolerances of just ±5%. The built-in start-up circuit with integrated 700 V bipolar junction transistor also eliminates external resistors, simplifying system design and allowing the AP3984 to directly switch the line input. The AP3984 also has a programmable line voltage drop-compensation function.
With protection features such as over-voltage, open- and short-circuit protection, and over-temperature protection (OTP) with auto-restart, the AP3984 provides a high-performance, highly integrated and cost-effective solution that also meets Energy Star 6.0 efficiency criteria with a standby power of less than 10 mW. Multiple PWM/PFM switching modes combined with a frequency dithering function further aid efficiency while improving EMC performance and reducing audible noise.
The AP3984MTR-G1 power switcher is available in the space-saving in SO-7 package.