AOZ531x DrMOS Family Achieves New Performance Benchmarks Advancing Next-Generation Graphics Cards and Gaming Notebooks
Alpha and Omega Semiconductor (AOS) announced a new series of DrMOS targeting multiphase VR regulators powering high-performance GPU and memory in desktop Add-In Graphics Cards (AICs) and gaming notebooks. The AOZ531xQI series uses AOS latest generation of Gen Alpha MOSFET technology to provide benchmark performance in a 5 mm × 5 mm QFN package. The series comprises of three DC current levels for multiphase voltage regulator optimization.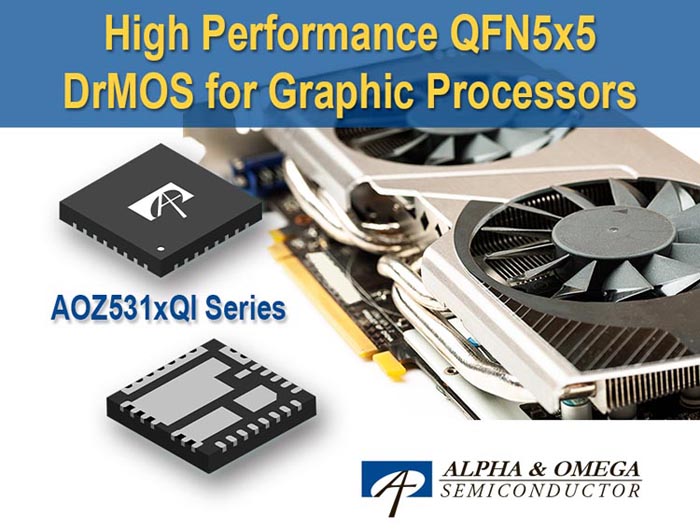 The AOZ531xQI offers both performance and robustness to support high peak currents common in a GPU multiphase VR. AOS DrMOS guarantees this performance on the datasheet, and all devices in the AOZ531xQI family features high peak current capability, up to 120 A for 10 µs and 80 A for 10 ms.
Technical Highlights
The AOZ531xQI family of DrMOS supports both add-in card (12 V input) and gaming laptop (20 V input) input voltage operating range. Three performance levels (50 A, 60 A, and 65 A) allow tradeoffs in the current/phase and number of phases.
DC Operating Range: 2.5 V to 20 V for AOZ5311/2/3QI
DC Operating Range: 2.5 V to 25 V for AOZ5316/7/8QI
Universal standard QFN 5×5 package
Capable of up to 120 A for 10 µs
Capable of up to 80 A for 10 ms
3.3 V and 5 V PWM logic compatible
True high impedance input at PWM when disabled for phase shedding operation
Thermal warning indicator
Ability to enable or disable diode emulation mode using #SMOD input
Pricing and Availability
The AOZ531xQI series is immediately available in production quantities with a lead-time of 12 weeks. The unit price in 1,000 pieces quantities is $1.24 for AOZ5311xQI, $1.35 for AOZ5312xQI, $2.10 for AOZ5313xQI, $1.30 for AOZ5316xQI, $1.40 for AOZ5317xQI, and $2.20 for AOZ5318xQI.