Analog Devices, which recently acquired Linear Technology Corporation, announces the LTC3636 and LTC3636-1 are high efficiency, 4 MHz synchronous dual output buck regulators that incorporate a unique constant frequency/controlled on-time, current mode control scheme with phase lockable switching frequency. Further, their innovative design architecture reduces conducted and radiated emissions. The devices can deliver up to 6 A of continuous output current from each channel or generate a 2-phase single output up to 12 A. The parts accommodate output voltages as low as 0.6 V from a compact 4 mm × 5 mm QFN package. The switching frequency is user programmable from 500 kHz to 4 MHz, enabling the use of tiny, low cost capacitors and inductors, and also may be synchronized to an external clock signal. The LTC3636/-1 operates from an input voltage of 3.1 V to 20 V, while output voltage sense ranges are 0.6 V to 5 V for the LTC3636 and 1.8 V to 12 V for the LTC3636-1, ideal for dual-cell Li-Ion applications as well as 5 V and 12 V intermediate bus systems.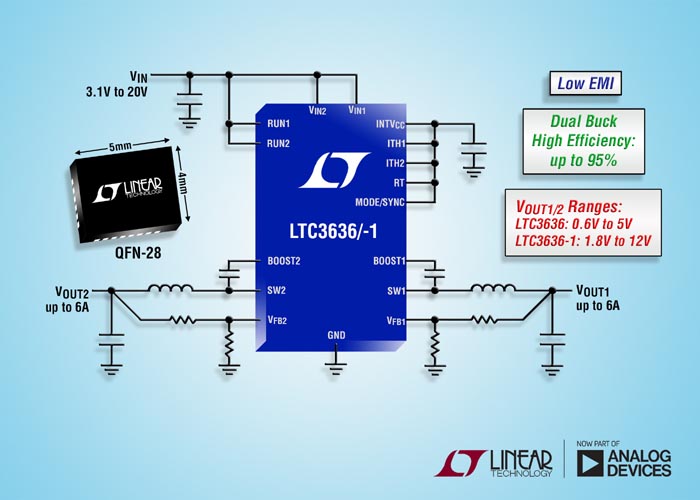 Each channel of the LTC3636/-1 uses internal switches with RDS(ON) of only 32 mΩ and 18 mΩ to deliver efficiencies as high as 95%. Its unique control architecture enables it to achieve duty cycles as low as 5% while maintaining switching frequencies up to 2.25 MHz, ideal for high step-down ratio applications such as 12 VIN to 1.8 VOUT conversions. The two channels run 180 degrees out-of-phase, minimizing the size of both input and output capacitance. The dual outputs may be combined in a 2-phase configuration for up to 12 A output current. Burst Mode® operation is used to maximize light load efficiency, requiring 600 μA at no load. For applications requiring the lowest possible noise, the LTC3636/-1 can be configured to run in forced continuous operation, reducing supply ripple and potential RF interference. Additional features include a die temperature monitor, power good voltage monitors, output voltage tracking capability, independent soft-start capability for each channel, short-circuit protection, input overvoltage and overtemperature protection.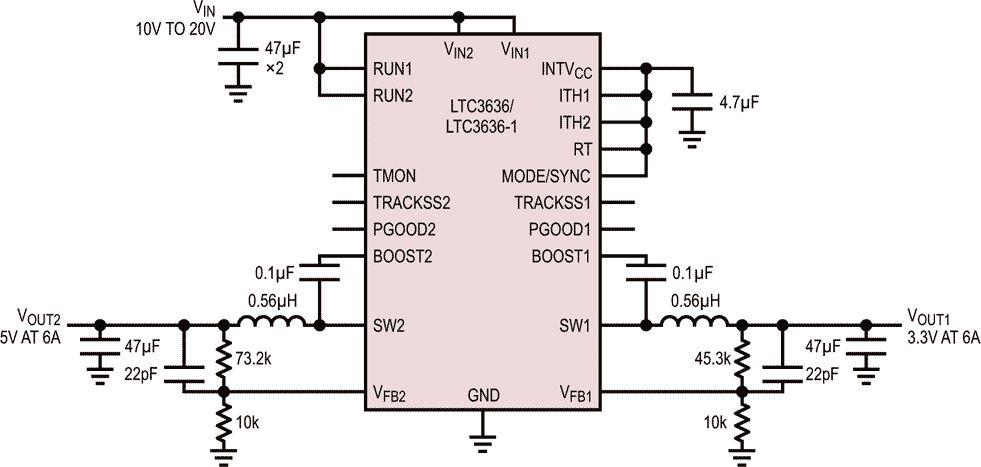 Typical Application.
The LTC3636 is available in a thermally enhanced, 4 mm × 5 mm QFN-28 package. E- and I-grade versions are guaranteed to operate over the –40 °C to 125 °C operating junction temperature, pricing starts at $4.45 each for 1,000-piece quantities of the E grade. All versions are available from stock.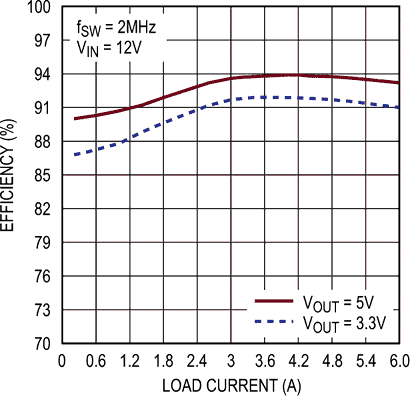 Efficiency vs Load Current.
Summary of Features: LTC3636/-1
3.1 V to 20 V Input Voltage Range
Ultralow EMI/EMC Emissions
6 A Output Current per Channel
Up to 95% Efficiency
VOUT Sense Ranges:

0.6 V to 5 V (LTC3636)
1.8 V to 12 V (LTC3636-1)

Die Temperature Monitor
Adjustable Switching Frequency: 500 kHz to 4 MHz
External Frequency Synchronization
Current Mode Operation for Excellent Line & Load Transient Response
0.6 V Reference Allows Low Output Voltages
User Selectable Burst Mode® Operation or Forced Continuous Operation
Output Voltage Tracking & Soft-Start Capability
Short-Circuit Protected
Input Overvoltage & Overtemperature Protection
Power Good Status Outputs
Low Profile 4 mm × 5 mm 28-Lead QFN Package
Typical Application.
Efficiency vs Load Current.