Azoteq announced the release to market of the IQS620. The IQS620 is the first capacitive touch and proximity sensor, along with inductive and Hall-effect sensing, in a single, low-profile DFN(3×3)-10 package.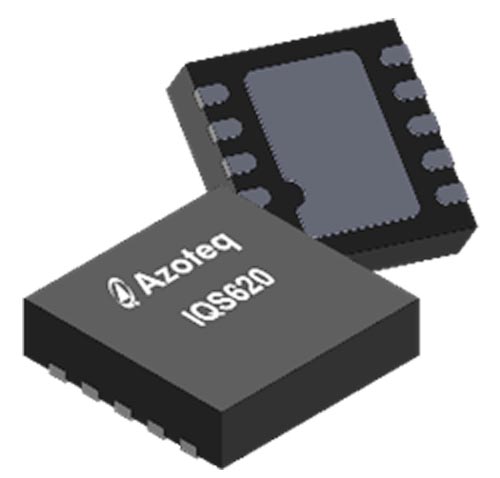 The IQS620 ProxFusion™ IC is a multifunctional "sensing tool" in which capacitance, inductance, Hall-effect and temperature sensing can be configured. The inductive sensing is suitable for the detection of metallic objects, while capacitive sensing provides human touch and proximity detection. Highly configurable power modes and sensing configurations enable a wide variety of applications, including wearables, mobile devices and security. The device offers various options to address the latest SAR requirements (EN50566:2013).
"The IQS620 is the 'Swiss army knife' of capacitive sensors and offers the added value of combination sensing at a price point that rivals other, similar, capacitive-only sensors," said Jean Viljoen, VP of Marketing.
Features:
Capacitive sensing:
Full auto-tuning with adjustable sensitivity
2 pF to 200 pF external capacitive load capability
Proximity / touch
Release detection algorithm for SAR UI
Movement detection algorithm for SAR UI
Proximity wake-up
Proximity enable on Hall-effect event
Inductive sensing:
Only external sense coil required (PCB trace)
Distinguishes between metal and other materials
Distinguishes between metal types (ferrous and non-ferrous)
Hall-effect sensor:
On-chip Hall plates
No external components required