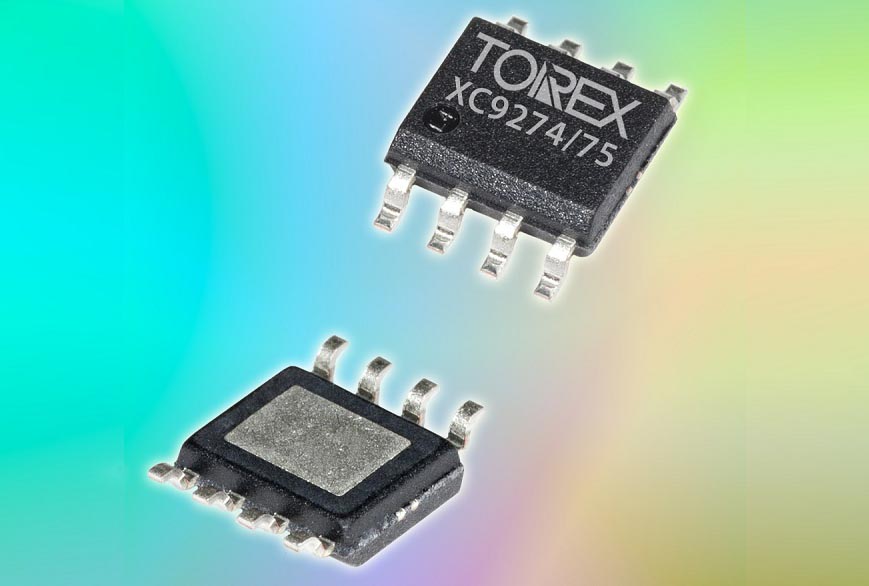 Recently, FPGAs and ASICs are provided with lower core voltage to reduce power consumption. In conjunction with lower core voltage, demand for DC/DC converters with higher precision output voltage increases year by year.
Load current for FPGAs and ASICs varies instantaneously, resulting in significant transient voltage fluctuation. Conventional DC/DC converters need large capacity output capacitors to control transient voltage fluctuation, and therefore require a lot of mounting space.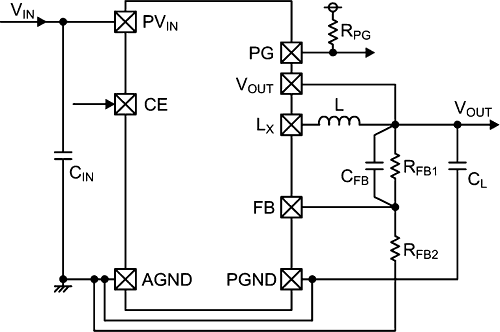 Typical Application Circuit.
The XC9274/XC9275 Series are 3.0 A synchronous rectification DC/DC stepdown converters capable of outputting low output voltage with high precision, and are equipped with "2nd generation HiSAT-COT" that supports faster transient response. The XC9274/XC9275 Series ICs are the ideal for POL power supplies for devices used with loads that fluctuate significantly.
With "2nd generation HiSAT-COT," the XC9273/XC9274 Series provides FB voltage accurate to ±1% within the entire operating temperature range for higher output voltage precision. The new series features world class fast transient response characteristics; enables more compact large capacity output capacitors that used to be required up to now – about 25% less mounting space is required.
Typical Performance Characteristics.
PWM control (XC9274) or PWM/PFM automatic switch control (XC9275) is available to support low ripple and efficient, high speed transient response in an entire load range from light to heavy.
Output current is 3.0 A, input voltage range is 2.7 to 5.5 V, output voltage range is 0.8 to 3.6 V, and FB voltage precision is ± 1.0%. Switching frequency can be selected from 1.2 MHz, which is efficient for power conversion, or 3.0 MHz, which enables compact component size.
The soft-start feature is 0.25 ms (internally fixed), and you can select whether or not to use the soft off feature that quickly discharges output voltage when operation stops. Facilitates handling of start sequence for FPGA, ASIC, etc.
Equipped with built-in overcurrent protection, short-circuit protection and thermal shutdown. Hiccup mode and latch stop type are provided for which the output can return automatically when released from overcurrent (short circuit) protection.
Uses general purpose SOP-8FD (4.9 × 6.0 × h1.55 mm) package.