LM3100, the First in a New Synchronous SIMPLE SWITCHER Family, Simplifies Circuit Design with Wide Input Voltage Range from 4.5 V to 36 V and Constant On-time Architecture
National Semiconductor Corporation introduced the LM3100, the first member of a new synchronous SIMPLE SWITCHER® family and the industry's first synchronous, monolithic, 1.5A buck regulator with an input voltage range of 4.5 V to 36 V. Architected to simplify circuit designs, this new buck regulator will be complemented in 2006 by additional family members.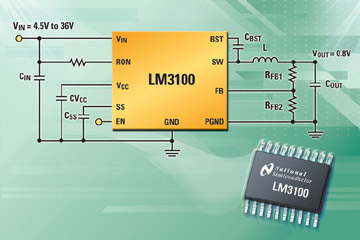 Complex digital loads require fast transient response. National's agile LM3100 employs a high-performance constant on-time (COT) architecture with a proprietary, patent-pending flywheel current injection control (FCIC) that allows the use of ceramic output capacitors without additional equivalent series resistance (ESR) compensation. Input voltage feed-forward rejects line transients and keeps the switching frequency nearly constant when operating from an unregulated supply. The LM3100 also features 0.8V, 1.5 percent feedback, adjustable switching frequency up to 1 MHz and an asymmetrical power stage tuned for step-down conversion. These design benefits make the LM3100 SIMPLE SWITCHER buck regulator easy to use and well-suited for a diverse range of loads and applications, including FPGA, DSP, digital ASIC, networking, gaming, audio-video, medical and industrial.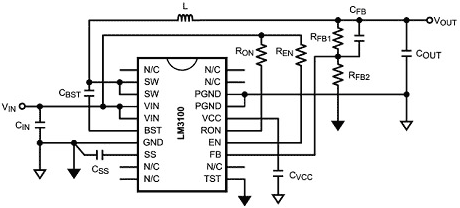 About the LM3100
The LM3100 includes the following features and benefits:
Wide Vin range of 4.5V to 36V, ideal for industrial and automotive infotainment
0.8V, 1.5 percent feedback voltage for next-generation digital cores
Ultra-fast load transient response of COT FCIC, which requires no external loop compensation, and is simple and agile with fewer filter capacitors
Stable performance, even with low-ESR ceramic filter capacitors, for compact designs
Adjustable switching frequency up to 1 MHz for smaller footprint
Vin feed forward, which rejects input transients and ensures constant frequency over a wide input voltage range
Low external component count, reducing overall system cost and solution size
Capable of delivering a continuous 1.5A load current
Monolithic synchronous MOSFET for improved efficiency at low output voltages
Soft-start to control in-rush current and prevent output voltage overshoot at application of power
Output over-voltage protection immediately disables the high-side MOSFET to protect valuable load circuitry
Cycle-by-cycle valley current limit for protection against overload and short-circuit loads
Thermally enhanced eTSSOP-20 package to reduce junction temperature at maximum load
Thermal shutdown to protect the part and its load during overloads
Pricing and Availability
Available now, the LM3100 is priced at $2.50 in 1,000-unit quantities.