Optimal power efficiency using latest package technology sets a new industry standard for high power density applications
Alpha and Omega Semiconductor introduced AONE36132, a 25 V N-Channel MOSFET in a dual DFN 3.3 × 3.3 package which is ideal for synchronous buck converters. The AONE36132 is an extension to the XSPairFET™ lineup. Designed with the latest bottom source packaging technology, the AONE36132 has lower switch node ringing due to lower parasitic inductance. This new XSPairFET™ offers a higher power density compared to existing solutions and is ideally suited for computing, server and telecommunication markets.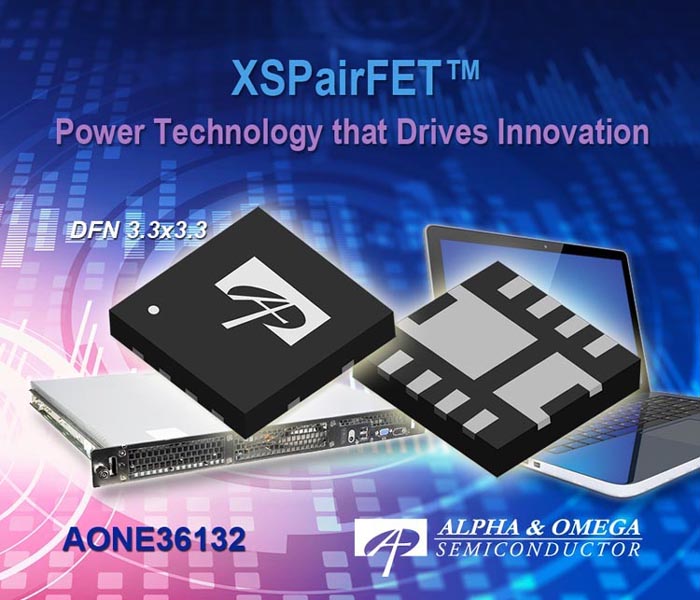 AONE36132 has an integrated high-side and low-side MOSFETs (7 mOhms and 2 mOhms maximum on-resistance, respectively) within a DFN 3.3 × 3.3 XSPairFET™ package. The low-side MOSFET source is connected directly to the exposed pad on PCB to enhance thermal dissipation. Using an existing notebook design under typical conditions, 19 V input Voltage, with 1.05 V output Voltage, and a 21 A output load condition, the AONE36132 had more than a two percent efficiency improvement when compared to a single DFN 5 × 6 high side and single DFN 5 × 6 low side configuration.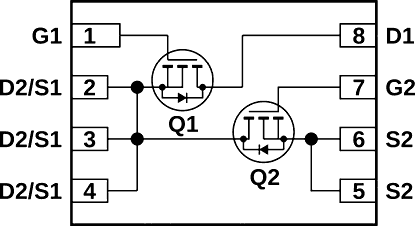 Pricing and Availability
The AONE36132 is immediately available in production quantities with a lead-time of 12-14 weeks. The unit price for 1,000 pieces is $0.91.