Alpha and Omega Semiconductor (AOS) announced a new Type-C Power Delivery (PD) high voltage source protection switch capable up to 28 V absolute maximum voltage. The AOZ1374 is a smart protection switch in a small thermally enhanced 3 mm × 3 mm DFN package. AOS's prowess in high-performance ICs combined with AOS's state of the art high SOA MOSFETs using advanced co-packaging techniques. AOZ1374 supports a slew of protection features, including true reverse blocking in a small solution footprint with an industry-leading on-resistance of 36 mOhm.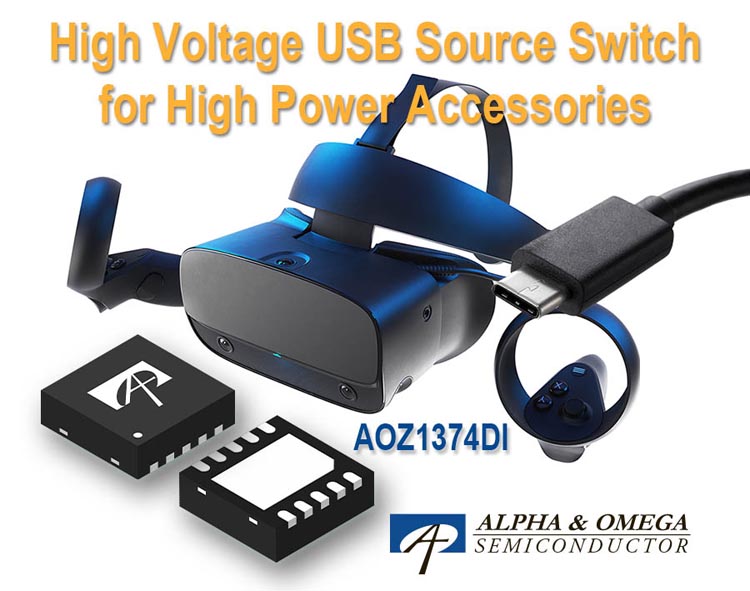 While USB ports in consumer and computing equipment can receive up to 100 W of power, power typically comes from an AC-DC adaptor supporting Type-C PD. The host device itself typically provides (sources) 5 V @ 3 A or up to 15 W. This is the most common implementation in notebook applications and also in the majority of desktops. However, Type-C PD ports are gaining popularity in more devices such as smart monitors and power banks, and for such applications, a high voltage sourcing switch is required to deliver up to 100 W power. Type C high voltage sourcing switches are also increasingly common in graphics cards or game consoles to power high-end virtual reality gaming goggles. Similarly, a personal computer can connect to a monitor using one single Type-C cable providing both power and data.
AOZ1374 uses a design IP developed for the AOZ1375DI high voltage bi-directional source/sink Type C protection switch with added integration features to eliminate the eternal current limiting resistor. The new device features 28 V absolute maximum voltage with the current limit capability, and startup safe operating area (SOA) management would be the ideal protection switch for the applications mentioned above.
Technical Highlights
Operating Range: 3.4 V to 23 V
28 V Absolute Maximum rating
On-Resistance: 36 mΩ for back-to-back MOSFETs
Protection features:

True Reverse Current Blocking,
Under-Voltage Lock-Out,
Over-Voltage Protection,
Thermal Shutdown Protection,
Programmable Soft-Start,
Programmable Over-Current Protection,
Startup SOA Management

Options:

AOZ1374DI-01 (Auto-restart) and
AOZ1374DI-02 (Latch-off) after fault release

Package: 3 mm × 3 mm DFN-10L
Pricing and Availability
The AOZ1374 is immediately available in production quantities with a lead-time of 12 weeks. The unit price of 1,000 pieces is $0.61.