Ultra slim device guarantees 5 kV isolation and 8.0 mm creepage and clearance distances
Toshiba Electronics Europe announced the launch of a new gate driver photocoupler housed in a low-profile SO8L package. The TLP5832 delivers 2.5 A peak output current (IOPH, IOPL) and can directly drive medium-class IGBTs and MOSFETs in applications such as inverters for industrial, air conditioning and solar applications as well as servo amplifiers.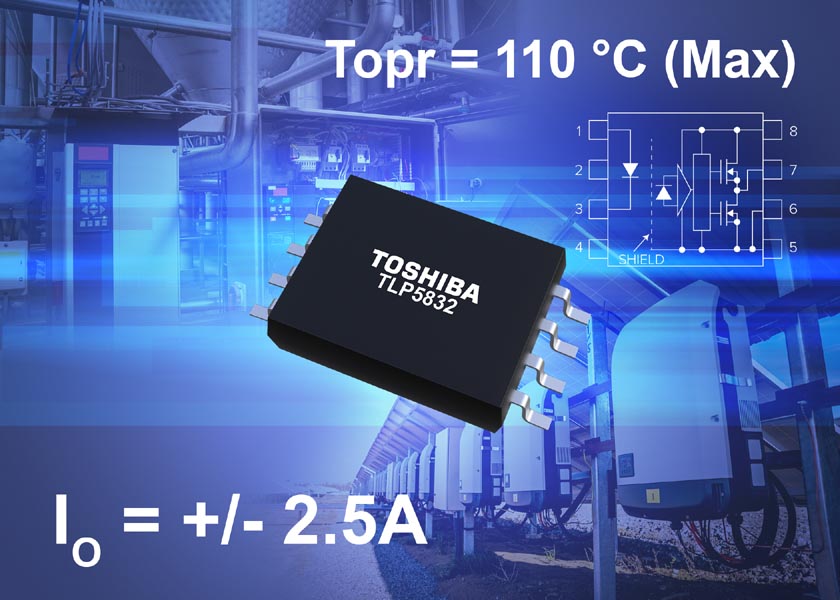 Adoption of the SO8L package delivers a device, that is just 2.3 mm high – approximately 54% lower than Toshiba's current products that are available in SDIP6 and DIP8 packages. The SO8L package provides support for modern applications where there is often limited mounting height and limited space.
In spite of its small size, the IC offers an isolation voltage (BVS) of 5000 Vrms and guarantees creepage and clearance distances of minimum 8.0 mm, making it suitable for applications requiring high insulation performance, including safety-critical designs.
Additionally, the new TLP5832 guarantees the propagation delay time (tPLH, tPHL) to be 200 ns and the propagation delay skew (tPsk) to be ±80 ns right across the full operating temperature range of –40 °C to +110 °C. As a result, high-efficiency inverter circuits can be designed by reducing temperature-related design margins.
Shipments has started.