Smart protection switch provides industry-leading performance, up to 28 V over-voltage protection for Type-C PD port applications
Alpha and Omega Semiconductor (AOS) announced a new USB Type-C Power Delivery compliant input protection switch with up to 28 V over-voltage protection. The AOZ1376 is a smart protection switch with reverse current blocking capability intended for applications where internal circuitry requires protection from exposure to high voltages. This new device offers low RDS(ON) (20 mohm) in a thermally enhanced 3 × 3 mm DFN package, made possible by AOS' advanced co-packaging technology, combining a high performance IC with protection features and our latest high SOA MOSFET. The AOZ1376 provides an ideal solution for the latest notebooks, ultra books, dongles, and docking stations, with Thunderbolt/USB Type-C PD ports.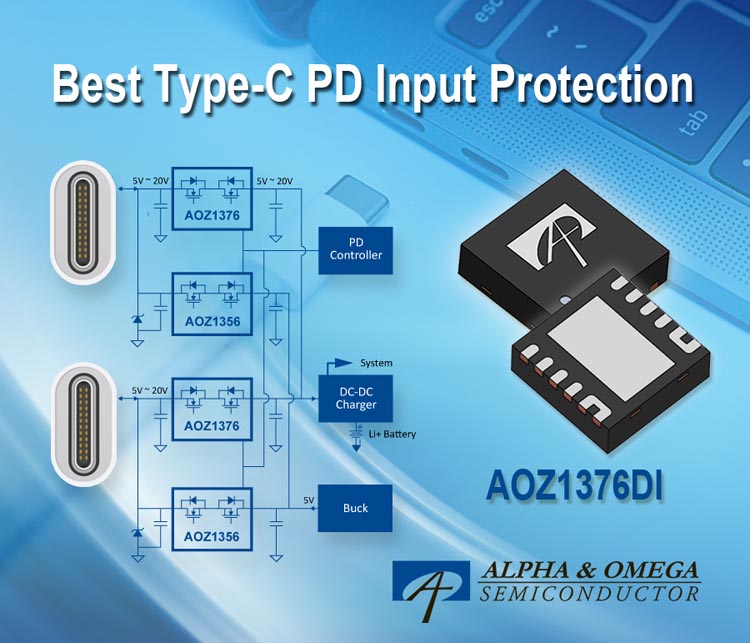 Typically, USB Type-C sinking applications are protected from a reverse current using a circuit that uses two discrete back to back MOSFETs along with resistors and capacitors to provide basic soft start functionality; however programmability and protection features are lacking in this implementation. The AOZ1376 overcomes these disadvantages, saving both component count and PCB footprint while offering a robust protection feature set to increase the reliability of end products using Type-C power delivery.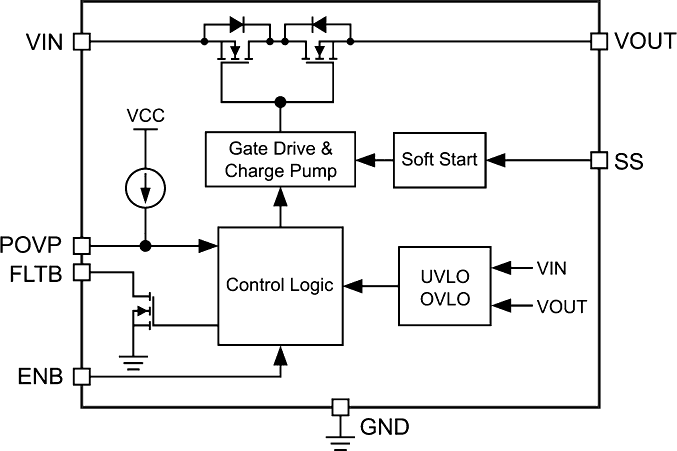 Functional Block Diagram.
Technical Highlights
The AOZ1376 operates from 3.4 V to 22 V on VIN. Both VIN and VOUT are rated at 28 V Absolute Maximum. The back-to-back switch configuration blocks any current flow between VIN and VOUT pins when the device is disabled or when the device is enabled, but VOUT is greater than VIN. The AOZ1376 offers programmable soft start and comprehensive protection against short-circuit, thermal overload, reverse voltage and over voltage. The over-voltage protection threshold is selectable by an external resistor. The internal soft-start circuitry controls the inrush current due to highly capacitive loads, and the slew rate can be adjusted using an external capacitor. The device also features robust ESD of ±8 kV on VIN and VOUT pins and ±4 kV on all other pins.
Pricing and Availability
The AOZ1376 is immediately available in production quantities with a lead-time of 12 weeks. The unit price of 1,000 pieces is $2.25.