Silicon Labs Expands Zigbee Portfolio with Series 2 SoCs Optimized for Ultra-Low-Power Applications --
Silicon Labs announces a new family of secure, ultra-low-power Zigbee system-on-chip (SoC) devices designed for eco-friendly IoT products deployed in mesh networks. The EFR32MG22 (MG22) family expands Silicon Labs' Zigbee portfolio by delivering the smallest, lowest power SoCs optimized for Zigbee Green Power applications. Based on Silicon Labs' Wireless Gecko Series 2 platform, the MG22 SoCs are an ideal choice for Zigbee devices powered by coin cell batteries or energy-harvesting sources. Target applications include smart home sensors, lighting controls, and building and industrial automation.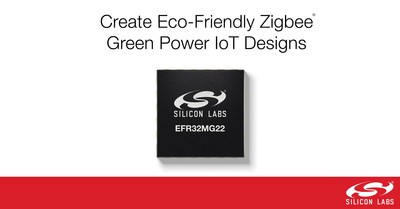 Energy-friendly Zigbee Green Power technology can help address environmental concerns by reducing residential, commercial and industrial energy footprints, one IoT device at a time. Using the same 802.15.4 PHY and MAC of the already energy-efficient Zigbee 3.0 protocol, Zigbee Green Power further reduces power consumption by decreasing the amount of data required for wireless transmission. From its inception, Zigbee Green Power was designed to be a highly efficient protocol enabling IoT devices, whether powered by batteries or by "battery-less" energy harvesting options. Silicon Labs optimized the new MG22 SoCs to provide a best-in-class connectivity solution for these challenging, power-sensitive wireless applications.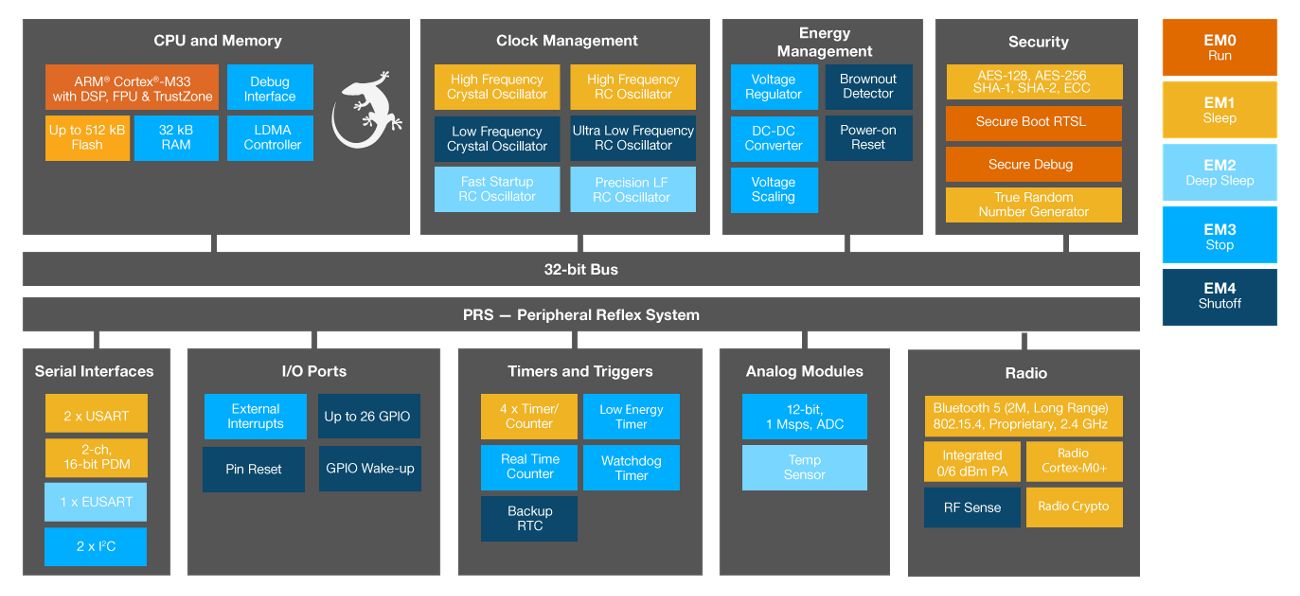 Silicon Labs EFR32MG22 Block Diagram
EFR32MG22 Common Specs and features:
High Performance 32-bit 76.8 MHz ARM Cortex-M33 with DSP instruction and floating-point unit for efficient signal processing
Up to 512 kB flash program memory
Up to 32 kB RAM data memory
2.4 GHz radio operation
Radio Performance

TX power up to 6 dBm
2.5 mA radio receive current
3.4 mA radio transmit current @ 0 dBm output power
7.5 mA radio transmit current @ 6 dBm output power

Wide Selection of MCU Peripherals

12-bit 1 Msps SAR Analog to Digital Converter (ADC)
Up to 26 General Purpose I/O pins with output state retention and asynchronous interrupts
4 × 16-bit Timer/Counter with 3 Compare/Capture/PWM channels
1 × 32-bit Timer/Counter with 3 Compare/Capture/PWM channels
32-bit Real Time Counter
24-bit Low Energy Timer for waveform generation
1 × Watchdog Timer
2 × Universal Synchronous/Asynchronous Receiver/Transmitter (UART/SPI/SmartCard (ISO 7816)/IrDA/I2S)
1 × Enhanced Universal Asynchronous Receiver/Transmitter (EUART)
2 × I2C interface with SMBus support
Digital microphone interface (PDM)

Protocol Support:

Bluetooth Low Energy (Bluetooth 5.2)
Direction finding using Angle-of-Arrival (AoA) and Angle-of-Departure (AoD)
Zigbee PRO/Green Power
Proprietary
Wide Operation Range

1.71 V to 3.8 V single power supply
The MG22 SoCs incorporate a high-performance, low-power 76.8 MHz Arm Cortex-M33 core with TrustZone. The SoCs' combination of ultra-low transmit and receive power (8.2 mA TX at +6 dBm, 3.9 mA RX), 1.4 µA deep-sleep mode power and low-power peripherals provides exceptional energy efficiency.
Pricing and Availability
The EFR32MG22 SoCs are planned to start shipping in March 2020 in a choice of 5 mm × 5 mm QFN40, 4 mm × 4 mm QFN32 and slender 0.3 mm × 4 mm × 4 mm TQFN32 packages. The EFR32MG22 SoC starter kit is planned to be available in March, with end device kit pricing starting at $99.00 (USD MSRP). Developers can download Simplicity Studio, including network analyzer and energy profiler tools, the Zigbee 3.0 stack, demos and mobile apps, at no charge.