NVE has launched two new transceivers with integrated DC-DC converters.
The new products are based on the revolutionary IsoLoop® DC-DC converter technology first introduced last month in the world's smallest isolated DC-DC converter, the ILDC11-15E.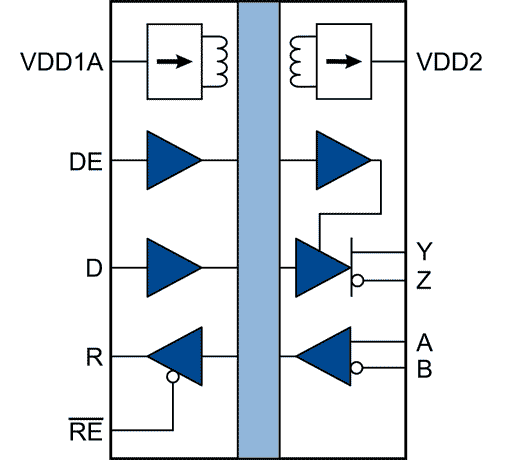 ​
IL4622
The two new products are the half-duplex IL4685E, which combines an RS-485 transceiver and a DC-DC converter in an single package, and the full-duplex RS-422 IL4622E. Both new devices have best-in-class 40 Mbps data rates.
NVE's IsoLoop technology uses a unique ceramic/polymer composite barrier, which provides full 2.5 kilovolt isolation and virtually unlimited barrier life.
The integrated DC-DC converters require no additional regulation and ferrite beads are not necessary for mitigation of electromagnetic interference.
Key IL4685E/IL4622E features include:
Best-in-class 40 Mbps megabits per second data rate
3.3-volt bus
2500 volts isolation
Up to 16.5 kilovolts bus electrostatic discharge protection
16-pin wide-body Small Outline Integrated Circuit
Demonstration Board
The IL4622 evaluation board is a complete isolated RS-485 or RS-422 network node using the IL4622E.
The 4 by 3 inch (100 by 75 mm) board provides screw terminal and test point connections, and a circuit board design that optimizes thermal performance.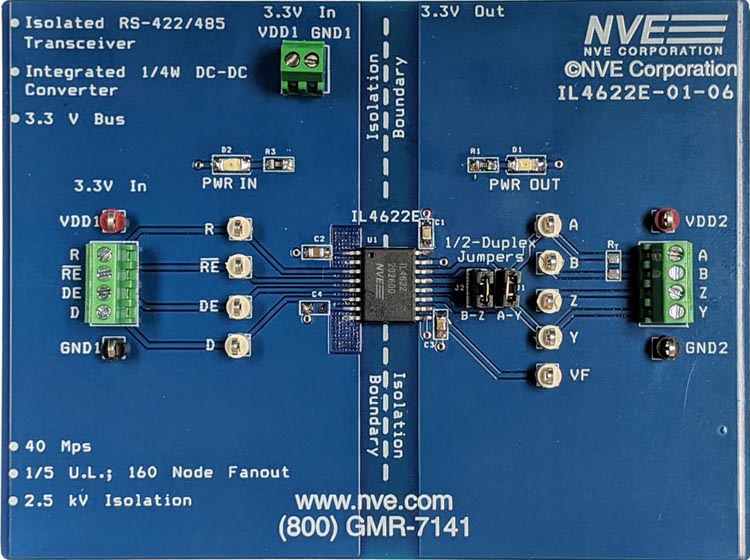 IL4622-01 Evaluation Board.
Available Now
IL4685E, IL4622E, and demonstration board are available now for immediate delivery. The parts are priced at $6.00 each in 1000-piece quantities. The IL4622-01 Evaluation Board price is $84.95 in single-piece quantities.