Fujitsu Microelectronics introduced the MB86R02 JADE-D SoC, which incorporates the Fujitsu MB86296 Coral graphics processor unit (GPU) with the powerful 32-bit ARM926EJ-S CPU core. Based on the Fujitsu 90nm CMOS process technology, the MB86R02 is optimized for modular automotive display applications requiring high CPU performance and sophisticated 2D/3D graphics. Target applications include graphical dashboard systems, head-up display units, on-board navigation systems, rear-seat entertainment, point-of-sale terminals and industrial control panels.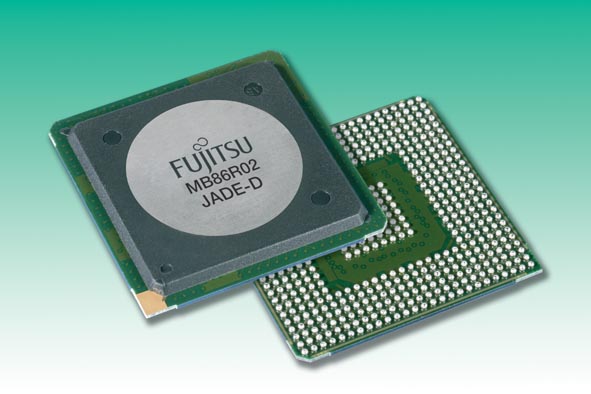 Key features include an extended temperature range up to 105°C, spread spectrum clock generation (SSCG) and the APIX® serial gigabit interface from Inova Semiconductors. This technology is becoming the new standard for peer-to-peer real-time transmissions of video and peripheral data in cars. APIX meets the EMC requirements of display applications in vehicles and, because of its potential for SoC integration, leads to higher performance at significantly lower system costs.
Fujitsu was the first silicon vendor to integrate the APIX interface into microcontrollers and graphics controllers. The built-in links in the MB86R02 can be used for various link speeds up to 1Gbit/s. Both links are configurable as transmitter or receiver, and support the sideband channel for peripheral data.
The combination of the GPU with Fujitsu's sophisticated multi-display controller technology offers an array of special features not found in competitive graphics systems, giving users significantly more options for managing graphics and processing images. The floating point GPU produces full 3D effects including transformations, rotations, volume clipping and culling. Deploying load-sharing techniques between the display controller and GPU can result in superior memory performance by reducing both the number of accesses (reads and writes) and the memory required compared to a system that relies exclusively on the GPU unit.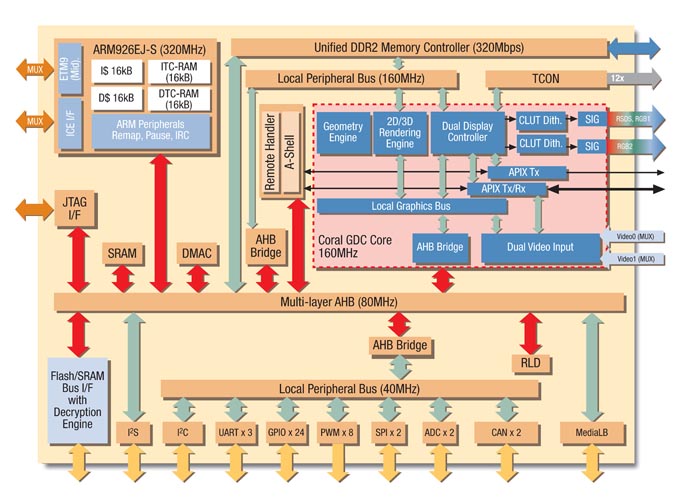 Two separate outputs support display panels with resolutions ranging from 320 x 240 up to 1280 x 768. A built-in TCON unit enables the MB86R02 "Jade-D" device to directly drive the panels without the need for further controller logic. The device offers multiple methods for connecting to the display panels including APIX, RGB digital or RSDS.
A unique "signature unit" function deploys a type of check-sum operation to ensure that graphics objects appear on the proper location on the display. This is a critical safety feature for displaying certain icons such as gear selection, engine condition and other important icons. A number of features enhance picture quality including dithering, gamma correction, and alpha blending at both the pixel and layer level.
The device, which requires a supply voltage of 3.3V (I/O), 1.8V (DDR2), and 1.2V (internal), is designed to operate over a temperature range of -40 to +105°C. The integrated SSCG ensures reduced EMI by slight clock modulation.
The ARM926EJ-S is a fully synthesizable processor with a Jazelle (Java Acceleration) 32-bit RISC CPU, 16kB instruction cache, 16kB data cache, 16kB ITCM, 16kB DTCM and memory management unit (MMU). Other features include an ETM9 (medium) and JTAG ICE interface, 8-channel DMA and 32-bit timers. The CPU runs all major operating systems and middleware.
Core frequency, which is generated by the on-chip PLL, is 320MHz. On-board peripherals include a unified DDR2 memory supporting 320Mbps (up to 128MB), a parallel flash/SRAM host interface with an decryption engine, CAN, MediaLB, ADC, I2C, I2S, PWM, SPI, UART, GPIO and an external interrupt.