The amount of current a relay consumes is determined by the current applied to its coil. Yet although this current is permanently applied, it is only actually required during activation.
Infineon Technologies introduced the AEC-Q100-qualified TLE4247EL40 relay driver which significantly reduces overall coil current consumption. It does this by minimizing the relay's coil current after activation, keeping it at a level required to keep the relay activated (40-60mA) without EMI. This can occur when a relayis driven via PWM. The coil current remains the same regardless of battery voltage.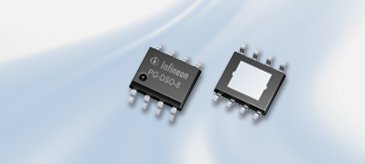 The TLE 4247 comes in a small, thermally enhanced PG-DSO-8 exposed pad package (RoHS) and can be mounted on a PCB inside a relay or on an ECU PCB with either a high-side or low-side switch.
Features
High coil activation current
Low hold current
Suited to both low- and high-side switches
PG-DSO-8 EP
Applications
Automotive relays (integrated into relay housing or mounted on ECU PCB)
Automotive electromagnetic actuators (e.g. ignition key interlock)
Application diagram of the TLE4247 integrated into a relay housing

Click to enlarge