Diodes announced a single-channel low-dropout fast-transient linear regulator with fixed output voltage of 5V and ±1% accuracy. The new low-dropout regulator integrates the voltage divider to reduce board space and external component count, thus simplifying layout and reducing opportunity for premature board failure.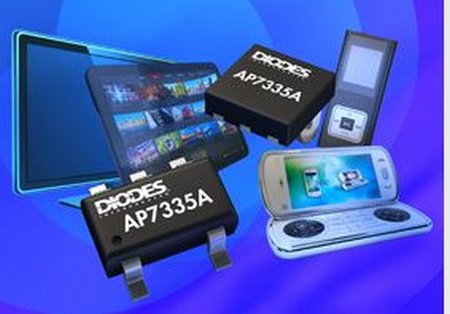 The AP7335A is primarily targeted at a wide array of home consumer and computing applications including TVs, set-top boxes and multifunction monitors, but is also suitable for battery-powered devices such as mobile media players, smart phones, portable gaming devices and tablets.
The device's low-dropout voltage of 150mV at 300mA maximum output enables the use of a 5.5V supply for a fixed 5V output with a good safety margin, thereby reducing power loss under full load. A key feature of the AP7335A is its typical quiescent current consumption of only 35µA across the entire input range, which reduces power consumption and improves efficiency and battery life for portable applications. In addition to this, the device's enable function permits the use of a 300mA low-dropout regulator that can be turned off for further power savings. To prevent IC damage in fault conditions, increase system stability and extend application runtimes, the device also integrates built-in current-limit, short-circuit and thermal-shutdown protection functions.