Micrel Inc. rolled out its new SuperSwitcher II™ family of integrated MOSFET buck regulators for high power density DC-DC applications. The new MIC26xxx family comprises six DC-DC buck regulators leveraging Micrel's proprietary HyperSpeed Control™ and HyperLight Load® architecture. The devices target distributed power systems, communications networking and infrastructure, and industrial applications. The MIC26601/901/1201 and the MIC26603/903/1203 are currently available in volume quantities, with 1,000 quantity pricing starting at $1.58/$1.74/$1.88 and $1.62/$1.77/$1.92 respectively.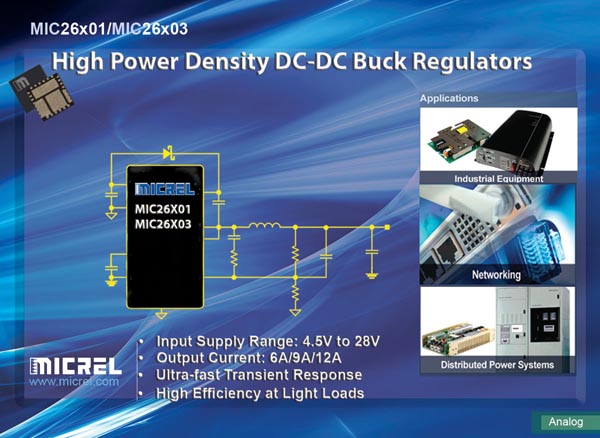 The MIC26601/901/1201 and the MIC26603/903/1203 operate with an input supply voltage range from 4.5V to 28V, and deliver an output current of 6A, 9A and 12A respectively. The SuperSwitcher II family has been tailored to be Any Capacitor™ stable, independent of the output capacitance Equivalent Series Resistance (ESR), thus solving the perpetual problem of stability that power designers face when dealing with distributed output capacitance. The SuperSwitcher II family of buck regulators can drive DC-DC loads at more than 95 percent efficiency, operate at 600kHz switching frequency with ±1 percent output voltage accuracy; the output is adjustable down to 0.8V.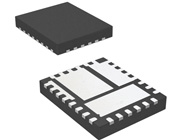 The SuperSwitcher II devices have an onboard 5V regulator allowing single-supply operation, an enable pin for very low power shutdown, internal soft start, under-voltage lockout, and internal compensation, in addition to a host of protection features such as pre-bias safe startup, over temperature protection, fold-back current limit and short circuit protection. The MIC26601/901/1201 and the MIC26603/903/1203 buck regulators are available in a thermally enhanced lead-free 28-Lead 5mm × 6mm MLF ® package.