Latest UMOS VIII-H MOSFETS provide compact, low RDS(ON), low Ciss surface mount switching solutions from 60 V to 250 V
Toshiba Electronics Europe has announced additions to its UMOS VIII-H ultra-efficient MOSFET family. The 32 new devices will help designers to save space and reduce losses in synchronous rectification and primary and secondary side switching applications and other high-speed designs requiring device ratings from 60 V to 250 V.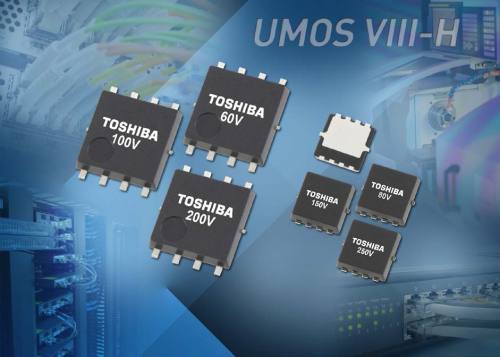 The latest MOSFETs offer voltage rating options of 60 V, 80 V, 100 V, 150 V, 200 V and 250 V, with each device available in a choice of TSON Advance or SOP Advance flat SMD packages. Respective board mounting areas are only 3 × 3 mm and 5 × 6 mm, whilst on resistance (RDS(ON)) values of many members of the family are best in class. For example the 100 V TPH4R50ANH (maximum RDS(ON) of 4.5 mΩ @ VGS = 10 V) and the 200 V TPH2900ENH (maximum RDS(ON) of 29 mΩ @ VGS = 10 V) combine the lowest RDS(ON) ratings with very low gate charge (Qg) and input capacitance (Ciss).
Toshiba's new UMOS VIII-H MOSFETs are based on the company's eighth generation UMOS trench semiconductor process. This process delivers significant improvements in RDS(ON) and Ciss characteristics to optimize efficiency and switching speeds while minimizing radiated noise.
Target applications for the 60 V – 250 V SMD MOSFETs will include AC/DC and DC/DC conversion in industrial systems, digital home appliances, computing equipment and gaming products. The 80~150 V devices will be particularly well-suited to power supplies in various elements of telecommunications application.