RClamp3324P leverages Semtech's proprietary technology capabilities to clamp 25 to 50 percent lower than similar products on the market
Semtech Corporation announced the latest addition to the RClamp® platform, a low capacitance 3.3 V (Vrwm) transient voltage protection array optimized to safeguard high-speed data interfaces from electrostatic discharge (ESD) and overvoltage transient threats.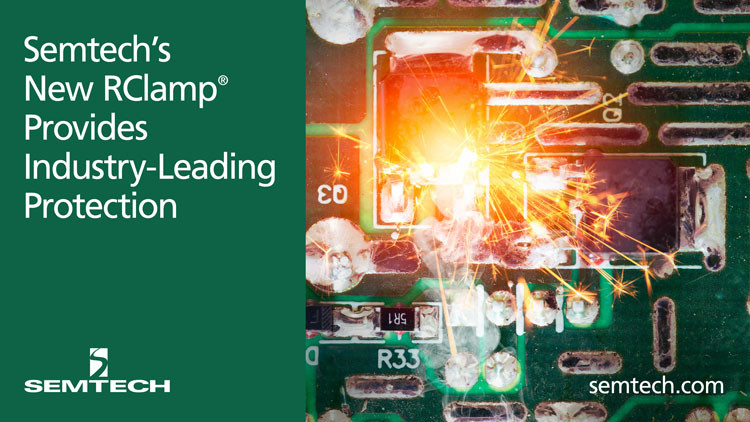 "Today's high-speed data circuits are increasingly vulnerable to damage or latch-up from common electrostatic transients. Providing system robustness through lower clamping voltage protection solutions is critical," said Tee Lim, Product Marketing Director for Semtech's Protection Products Group. "RClamp3324P leverages many of Semtech's proprietary technology capabilities to offer product designers a device that clamps 25 to 50 percent lower than similar products on the market today."
The four-line, 3.3 V RClamp3324P offers designers increased protection margin by offering an exceptionally low ESD clamping voltage while minimizing loading capacitance to protect high-speed data interfaces, including LVDS, Ethernet and USB 3.x. Additionally, the RClamp3324P, housed in a 10-pin QFN package, facilitates a flexible flow-through layout ideal for optimizing trace routing to achieve signal integrity performance. The device exceeds the ESD requirements of the IEC61000-4-2 ESD immunity standard, achieving ±20 kV air and ±17 kV contact.
Key Features of the RClamp3324P
Transient protection for high-speed data lines to:

IEC 61000-4-2 (ESD) :

±20 kV (air),
±17 kV (contact);

IEC 61000-4-4 (EFT) 4 kV (5/50 ns);
IEC 61000-4-5 (lightning) 4.5 A (8/20 μs)

3.3 V working voltage protection
Protects four I/O lines
Low capacitance (<0.4 pF typical line-to-line)
QFN package: 2.5 × 1.0 × 0.6 mm
Pb Free and RoHS/WEEE compliant
Pricing and Availability
The RClamp3324P (order code: RClamp3324P.TCT) is available immediately in production quantities. Semtech offers comprehensive design assistance, including field- and factory-based support.