Semtech's new ultra-low capacitance TVS device offers industry leading ESD protection for high speed data lines
Semtech Corporation announced the latest addition to its RClamp® platform. The RClamp3371ZC exceeds industry immunity standards for electrostatic discharge (ESD) protection robustness while only presenting 250 femtofarads of maximum loading capacitance. Engineered as a low clamping, ultra-low capacitance transient voltage suppression (TVS) device, the RClamp3371ZC is an ideal solution for safeguarding high speed interfaces, such as USB Type-C, from common ESD threats.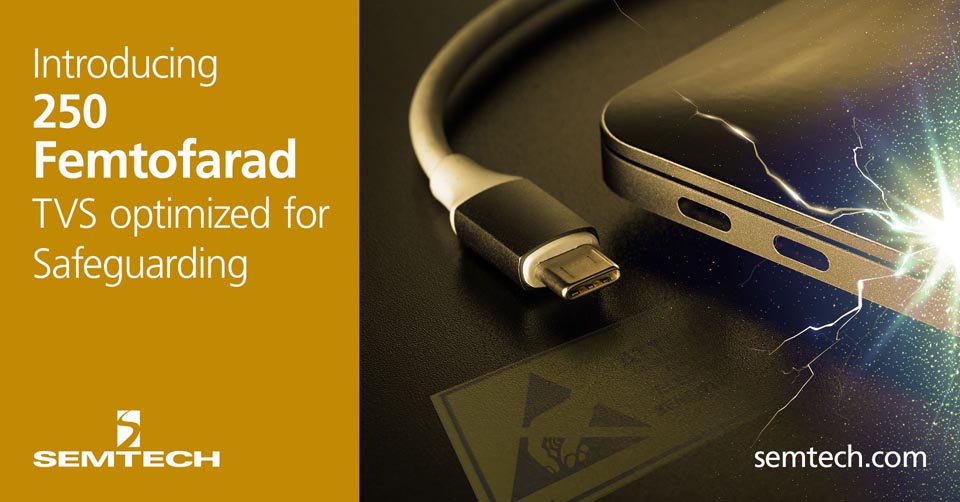 As high-speed transceiver ICs implemented on ever-shrinking silicon geometries become increasingly sensitive to transient voltage spikes, the need for high performance protection circuitry is becoming even more critical. These ICs require ultra-low clamping voltage protection while also presenting a minimal loading capacitance. Based on Semtech's FemtoClamp™ technology, the RClamp3371ZC utilizes an advanced ultra-low capacitance TVS silicon process for achieving the highest performance ESD protection for high speed data communication channels. RClamp3371ZC is housed in a very small 0201 package giving board designers key space savings and a high degree of layout flexibility.
Key Features of the RClamp3371ZC
Transient protection for high speed data lines to:

IEC 61000-4-2 (ESD):

±17 kV (air),
±10 kV (contact);

IEC 61000-4-4 (EFT) 40 A (5/50 ns);
IEC 61000-4-5 (lightning) 9 A (8/20 μs);

3.3 V working voltage protection
Ultra-low Low capacitance (<0.25 pF max)
Ultra-small 0.62 × 0.32 × 0.25 mm (0201) package
Pb-free and RoHS/WEEE compliant
Pricing and Availability
The RClamp3371ZC (order code: RClamp3371ZCTNT) is available immediately in production quantities. Semtech offers comprehensive design assistance, including field- and factory-based support.