»
News
»
Interfaces
Toshiba Launches Multi-bit TVS Diodes for Protection of High-speed Interfaces in Mobile Devices
Toshiba » DF5G5M4N, DF5G6M4N, DF6D5M4N, DF6D6M4N
Delivers enhanced protection features and reduces mounting space
Toshiba Corporation's Storage & Electronic Devices Solutions Company announced the launch of a new line-up of multi-bit, low-capacitance TVS diodes for protecting high-speed interfaces from electronic discharge (ESD) and surge voltage. The new line-up covers four products that support interfaces, including USB Type-C™ and HDMI™ and that can be used in mobile devices, including smartphones, wearable devices and tablet PCs. The TVS diodes offer improved protection performance with lower dynamic resistance and lower clamp voltage, and are housed in small LGA packages that requires approximately 30% less mounting space than Toshiba's current products.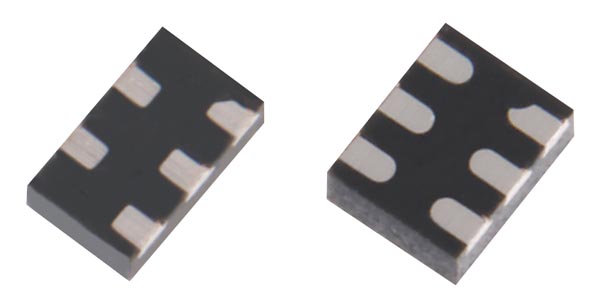 As electronic devices offer advances in high performance features while getting smaller in size, including smartphones, wearable devices, tablet PCs, notebook PCs, office equipment and LCD panels, the semiconductor products used in them have also been miniaturized. As a result, devices to protect semiconductors from ESD and surge voltage are increasingly required. Also, when used as protection for USB Type-C, HDMI and other high-speed interfaces, low-capacitance products also prevent attenuation of transmission signals.
Toshiba's new products are TVS diodes with features and terminal layouts designed for protection of high-speed interfaces used in those cutting-edge electronic devices. They are fabricated with Toshiba's proprietary EAP-IV process, which realizes lower dynamic resistance and clamp voltage than Toshiba's current products while enhancing overall protection by reducing ESD and surge voltage impacts on latter stage devices. The new line-up offers 4-bit and 2-bit products for both 3.3 V and 5.0 V signal lines, allowing users to select the product that matches the interface voltage of their system.
Line-up and Main Specifications
Part Number
Bit
VRWM
Max
(V)
VESD
(kV)
VBR Min/Max
@IBR=1mA
(V)
RDYN Typ.
@8 to 16 A
(Ω)
VC Typ.
@16 A
(V)
Ct Typ.
@0V,
(pF)
Package
DF5G5M4N
4-bit
3.6
±20
4.0 / 6.0
0.8
22
0.2
DFN5
DF5G6M4N
4-bit
5.5
±20
5.6 / 8.0
0.8
22
0.2
DF6D5M4N
2-bit
3.6
±20
4.0 / 6.0
0.8
22
0.2
DFN6
DF6D6M4N
2-bit
5.5
±20
5.6 / 8.0
0.8
22
0.2
You may have to

register

before you can post comments and get full access to forum.
News on theme:
RadioLocman on the Social Web: