New products realise direct replacement from current SDIP6(F type) package products
Toshiba Electronics Europe is expanding its line-up of SO6L IC photocouplers with a new wide leadform package type SO6L(LF4). The wide leadform option is available for three high-speed IC photocouplers and five IGBT/MOSFET driver photocouplers.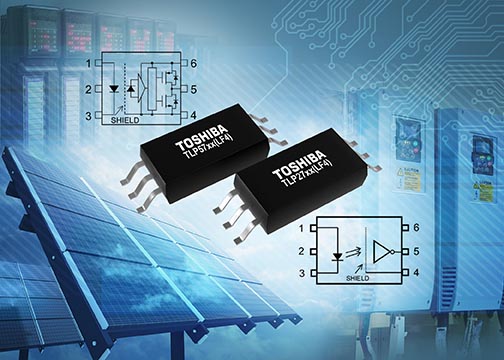 The new photocouplers can be directly mounted on PCB pads intended for SDIP6(F type) products. The SO6L(LF4)'s 2.3 mm (max.) low profile package offers a 45% height reduction over SDIP6(F Type) and allows use in height-critical applications, such as mounting on the underside of PCBs.
The SO6L(LF4) package has a pin spacing of 9.35mm (min.) giving a safety creepage distance of 8.0 mm and a BVs of 5 kVrms (min.).
To support the replacement of more popular SDIP6(F type) package products, Toshiba will expand the wide leadform option to include other SO6L IC photocouplers.
The new devices are ideal for use in a wide range of applications including high-speed digital interfacing, I/O interfaces, PLCs, intelligent power modules and inverters for air conditioning, industrial applications and solar energy.
Mass production of the SO6L IC photocouplers has commenced.
---
Notes:
he latest Gartner market report recognizes Toshiba as the leading manufacturer of optocouplers by sales in 2015 and 2016, with 23% of sale-based market share in CY2016. (Source: Gartner "Market Share: Semiconductor Devices and Applications Worldwide 2016" 30 March, 2016)
Toshiba will continue to deliver products that meet the needs of customers by promoting the development of a diverse portfolio of photocouplers and photorelays tailored to market trends.