Compact and efficient device offers the industry's lowest on-resistance
Toshiba Electronics Europe has started sample shipments of an automotive DC motor driver IC with a LIN (Local Interconnect Network) slave function that can communicate with a LIN 2.0 master IC for in-vehicle networks. The new TB9058FNG is suitable for many applications requiring up to 0.3 A drive current using LIN BUS including heating, ventilation and air conditioning (HVAC) damper control drivers.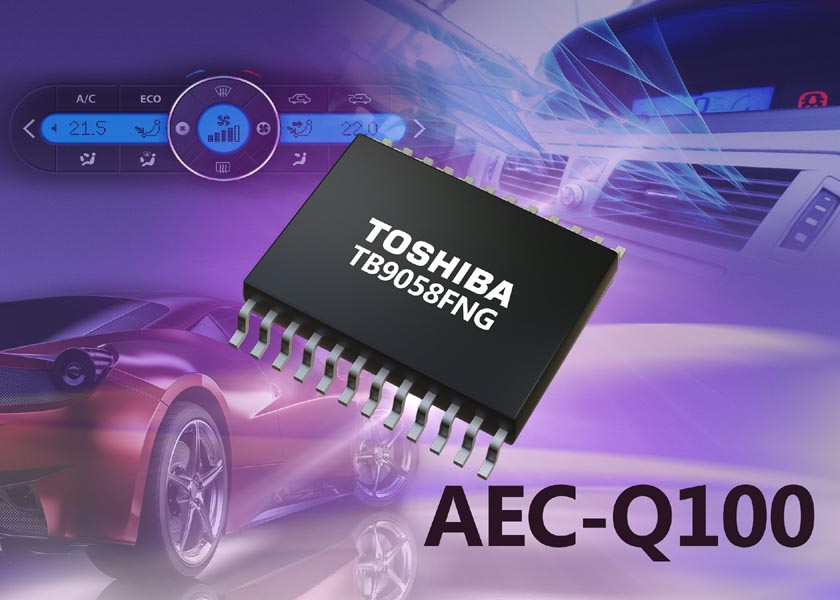 One significant advantage of the new driver is that no software development is required, as the IC incorporates the hardware logic of a single-channel H-bridge motor driver and LIN communication function with an enhanced checksum. The integration of the enhanced checksum function allows the LIN 1.3 compliant TB9058FNG to communicate with a LIN 2.0 compliant master IC. The TB9058FNG receives the position data from the motor rotation target via the external LIN BUS, and drives the motor to the rotation target. A variety of communication rates up to 19,200 bps are easily selected in hardware.
The device is energy efficient, offering the industry's lowest on-resistance (2.2 Ω High+Low) for an automotive HVAC damper control driver and consumes just 10 μA of current when in sleep mode.
Safety functions are inbuilt, and the driver can detect over voltage, over current and over temperature and notify the controller with a flag output.
The TB9058FNG operates from a 7 V to 18 V supply and has an operating temperature range of –40 to 125 °C making it ideally suited to automotive applications and will be AEC-Q100 qualified. Intended for compact applications, it is housed in a tiny (7.8 mm × 7.7 mm) SSOP24 package.
Mass production will start in December 2019.