The μClamp2417P 24V, surge-rated TVS protection array enables customers to exceed current industry ESD immunity standards
Semtech Corporation announced the μClamp2417P, a 7-line surge-rated, 24 V transient protection array for broad use in safeguarding industrial interfaces against transient voltage threats. The μClamp2417P offers a 10 A (8×20 µs waveform) surge immunity level in a small 2.6 × 2.6 mm QFN package and is ideal for safeguarding industrial data interfaces from electrical transient threats including electrostatic discharge (ESD), electrical fast transients (EFT) and lightning surge transients.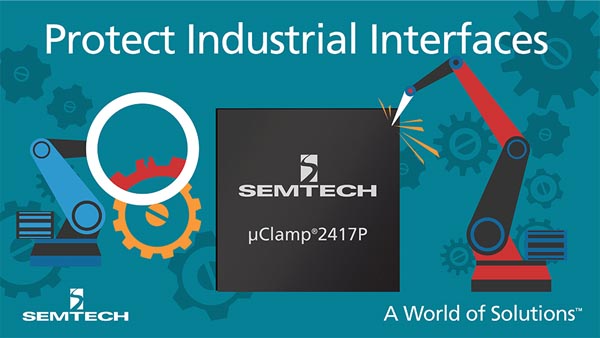 The 7-line μClamp2417P, with its excellent voltage clamping characteristics, delivers efficient transient protection for multi-line industrial data ports. The part's high surge immunity makes it ideal for protecting ports from induced lightning threats, and the μClamp2417P also achieves a high level of immunity against fast rise-time ESD transients, allowing customers to achieve compliance in excess of the industry's most stringent ESD immunity standards (IEC 61000-4-2).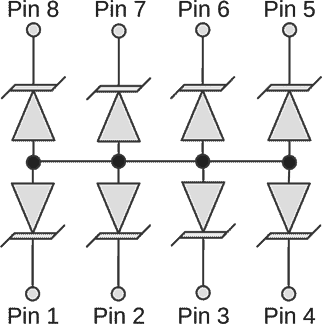 Key Features of the μClamp2417P
Transient protection for high-speed data lines to:

IEC 61000-4-2 (ESD) ±25 kV (air), ±17 kV (contact);
IEC 61000-4-4 (EFT) 40 A (5/50 ns);
IEC 61000-4-5 (Lightning) 100 A (8/20 μs)

24 V working voltage protection
High surge capability: 10 A (tp = 8/20 μs)
Protects 7 bidirectional lines, can also be used to protect 8 I/O lines
Low capacitance (<50 pF line-to-line)
Small 2.6 × 2.6 × 0.5 mm package
Pb Free and RoHS/WEEE compliant
Pricing and Availability
The μClamp2417P (order code: μClamp2417P.TCT) is available immediately in production quantities and is priced at $0.52 each in 10,000-piece lots. Semtech offers comprehensive design assistance, including field- and factory-based support.